JOHN AND MINNIE DICKEY
by Fannie B. Dickey Yadon/Rambur
I came to Montana with my parents, John and Minnie Dickey, and my four sisters and one brother. Sisters were Effie, Merle, Hazel and Verona, and brother, Ora.
We came from Doans, Indiana by train to Mondak in the year of 1909 where we were met by Harley Rush with a team of horses and sled. We got here in December, so we crossed the river on the ice. We stayed at the home of Harley Rush till my father filed on a claim on Four Mile where he ran a black smith shop for many years.
We kids went to Sweger School and we walked three miles to a one-room log cabin.
Our nearest neighbors were Johnsons and Salsburys who lived about a quarter of a mile from us.
My father later ran a threshing rig with a steam engine and my mother cooked in a cook-car for the men for many years.
Later my father and mother moved to Mondak, and my father bought a Chrysler car, which he used as a school bus for several years.
They owned their own home in Mondak, and when they moved to Fairview, in the year of 1937, they brought their own home with them. Bert Chase moved their house to Fairview. They crossed the river on the ice.
My father ran a sawmill in the Big Opening for many years.
My sister, Effie, and Johnny Holland were married soon after we came to Montana. Johnny came with us from Indiana and they moved out on Charley Creek where he built a two-room sod house. They had four children and lived in the sod house until my sister's death in 1918 from the flu. She died in October. Johnny, his four children, and my father and mother continued to live there until in February. Then Johnny took his family and went back to Indiana. My brother, Ora, also died in 1918 with flu.
My sister, Merle, was married to Gilbert McGrath in 1913 at Plentywood, Montana. They later moved to Buford where they farmed for many years. Gilbert was killed in a car accident in1948. My sister moved to Williston, North Dakota where she lived until her death from a heart attack on October 10, 1972.
My sister, Hazel, was married to Jim Yadon in 1922.She died on December 25, 1923, from leakage of the heart.
My sister, Verona, died in 1910 from diphtheria.
My youngest sister, Irene, and her husband, Eugene, live in Fairview.
My father passed away in his sleep on January 24, 1960 when he was 89 years old. My mother passed away on April 3, 1966 when she was 93 years old.
I was married to Ora Yadon on July 24, 1918, and we had four children. We lived with Ora's parents, Mr. and Mrs. Thomas C. two of my children were born in the old sod house. My children are: John Thomas Yadon, who lives with his wife, Becky, and family in Fairview; my oldest daughter, Violet Pauline Yockim, who now lives with her husband, Floyd and family at Deer Lodge, Montana; my second daughter, Joan Frances Arletta Diefel, who now lives with her husband, Leonard, and family at Billings, Montana; and my youngest daughter, Shirley Jean Valnes who now lives with her husband, Ernie, and family at Sidney.
On June 16, 1960, 12 years after my husband's death, I married Tony Rambur. He passed away on November 16, 1964.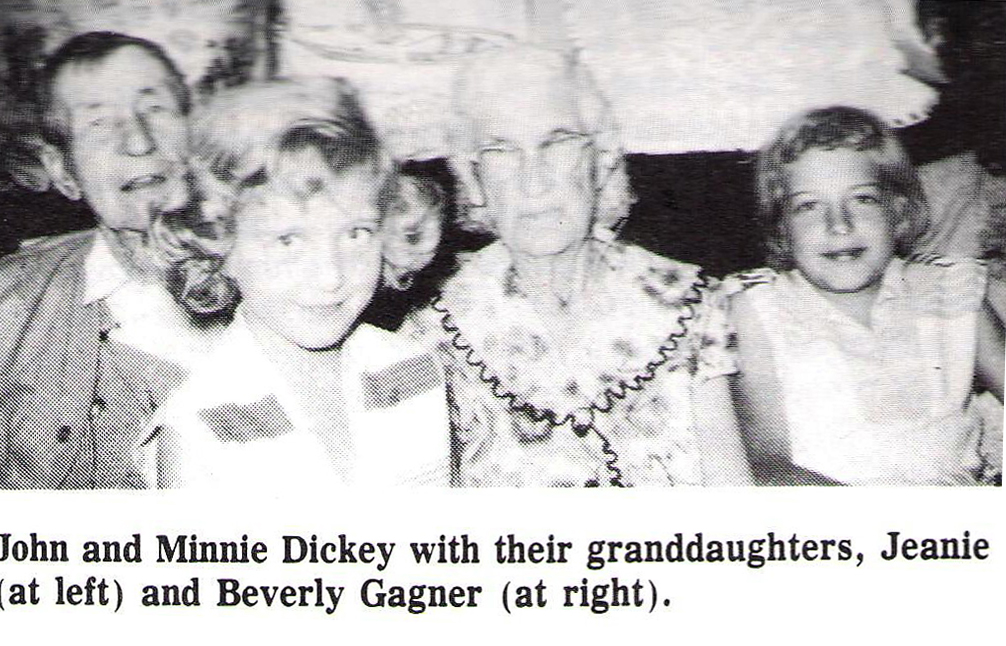 John and Minnie Dickey with their granddaughters, Jeanie (at left) and Beverly Gagner (at right).